Noémi Adorján
Web Developer

I created all the examples in this section as a sole contributor. Thanks to the users who came up with the good requirements!
Quick Turnaround
I can create pages for you to look at very quickly. Then you can suggest changes and decide the level of perfection that is affordable for you. We can repeat this process in small steps of continuous improvement and enrichment.
Technically speaking ... I like to develop in iterations, as suggested by the agile methods.
For example, I developed this event administration panel in less than a week. More...
That includes conversations with the user (who was quite pleased and excited). The features include
full maintenance of events, without losing sight of the "big picture" (the monthly calendar that gets updated as soon as the user changes an event)
graphic representation of room occupancy for each location of the organization (based on the event records)
Feel free to play with it - what you see here is a demo. If you enter public, denominational events, you should see them displayed at this event listing page (pointed out below as an example of a friendly page)
Friendly and Pretty Pages
Isn't it easy to find your way around this event calendar? Notice, how the thumbnail calendar on the left follows your move if you click on an event.
Technically speaking ... I am very excited by the interactivity made easy by AJAX and JQuery .. and I try to make the most of it.
Functionality
I take pride in building reliable and extensible functionality, from the rollover texts for links to a sophisticated legal document listing. The example I am showing here is a page with a Find a Person feature,
Technically speaking ... I have been successful in breaking applications into objects and functions in a way that keeps the code clear and easy to understand, that is, easy to modify.
Content Management
Quite naturally you want to be in control of the content displayed on your site. These days it's easy!
For example, the site for the Echo Women's Choir is managed with the popular Joomla content management system.
Creative Solutions
I like to be creative!
Look at my resume page (if you have JavaScript on, that is), It serves the convenience of human resource professionals and technical hiring people with allowing you to add your remarks on the fly and print out the resume with your remarks included! I believe I invented the method (just as I thought I invented the shopping cart in 1997).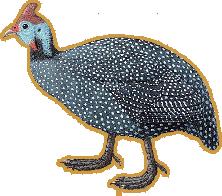 I like the way guinea fowls are beautiful in their own, nonconventional way.
That's why I like to use pictures like the one above.